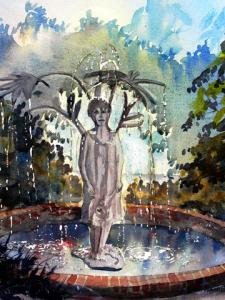 I soon realised that all artists are brave and presumptuous, brave because we put our work out for all to see and presumptuous because we assume anyone would want to see it anyway. However once the work is on view, either in a gallery or these days online, it becomes a suitable subject for criticism. Let me tell you now who are the best critics and who are the worst critics. The very best critics are the men and women who part with their hard earned money to buy your work. These discerning (got to be if they chose our work!) people have decided they like a piece so much that they buy it. In their 'critical' opinion the piece is good. So who are the worst critics? The answer is obvious – we are. Yes the artist is the one who is hardest on his work. We can see the bits we did wrong, that didn't turn out right or the bits we should have taken more care with. Happily nobody else can see these unless we blurt it out which we never do… do we?
There is no doubt that negative criticism has affected us all at some time or another and it is hard to get over it at first. Eventually we do of course and there does come a time when we look back wondering what all the fuss was about and even have a laugh over it.
Here are a couple of favourite ones of mine.
Back in 2003 Merice and I exhibited in the courtyard gallery at Burton Agnes Hall. Back then there was just a small rent for the fortnight with no commission charged unless we used their card facilities. This meant we could keep the cost of our work low. I was selling framed paintings for about £120 with offers of any two for £200. We were doing very well indeed so confidence was high. I decided to do a painting outside to attract attention to our exhibition. The subject I chose was a very ornate gateway that sported two rather impressive birds or something or other on the gateposts. I think they represented the phoenix bird arising but I focussed on just the one. Now to be fair it was not a subject I would normally choose and it was nothing to do with the fact that I would have to pay to go into the grounds to find more inspirational scenes. No, not that of course I told myself. This was much more practical to paint as I would be able to see if anyone went in to the gallery to have a look. Anyway I set up my easel and started to paint. An elderly lady came to have a look and she continued to do so for the next couple of hours until the painting was finished. When she came over I asked her if she liked the finished piece. "Well", she said wrinkling up her nose a bit, "it's not bad but you see that impressive bird over there. See how its mighty wings are poised to take off in flight?" I waited with bated breath before she continued "Yours" she said "Yours looks like a……duck!" Sadly it was in our pre-digital days so I haven't a photograph to show you but she was right.
So fast forward twelve months or so and I am now Artist in residence at Burton Agnes Hall. This is a real step up as we now have a free flat for a month with unlimited access to the grounds and Hall except for the family's personal rooms. My paintings are hanging in the summerhouse and have reached £200 by now with no special offers. Again I was doing very well. One afternoon a lady came in and began to rave about one of my paintings. She loved it and was determined to have it. She went to fetch husband George to finalise the sale. In he came – a typical Yorkshireman wearing the obligatory flat cap. She pointed out the painting still enthusing about it. George studied it for some moments with his hands firmly in his pockets before coming out with the immortal words "Ee lass – it's amazin' what a good piece of framin' can do for a painting". With that he exited the summerhouse leaving behind an apologetic wife and a disappointed artist. Ah well we have to learn to take it in our stride and it certainly kept my feet on the ground.
The painting shown here was done that same year and is a fountain in the grounds. I was always struck by the sad and wistful expression on the face of the young woman and painted it on site. I called it 'Why does it always rain on me' and I think we have all known the feeling. So fellow artists remember whatever negative criticism we receive it is only one opinion. Remain true to your vision and keep up the good work.